Death Valley & Route 66 4 days experience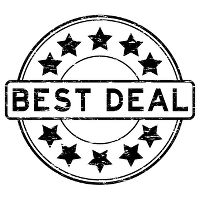 Tour Profile
Duration: 4 days
Distance to drive: approx 777 miles/1250 km
Level of difficulty:
For a minimum of 2 persons we will do this tour with you

Join us on an unforgettable vour days tour on the saddle of one of the legendary Harley Davidson® motorcycles around Las Vegas.
We have put together a great package for you, so you can enjoy the tour with confidence.
One night in a famous Death Valley and two days on the historic route 66. Biker's heart what more could you want? Are you listening to your heartbeat now?
With like-minded motorcyclists you'll get to know the contrasts of the country: explore the natural wonders and get an insight into the history of this desert region.
The contrasts of western romance and the glittering world of Las Vegas alternate. You are in the middle of it! You will be amazed by the magnificent and seemingly endless landscapes.
The impressions that you win on this tour will never get out of your mind.
It doesn't really matter whether you come as a single or as a couple want to take part in a dream - it remains an unforgettable dream.
This is a promise!
If you wish to extend your stay or have other wishes, please don´t hesitate to contact us.
Tour Itinerary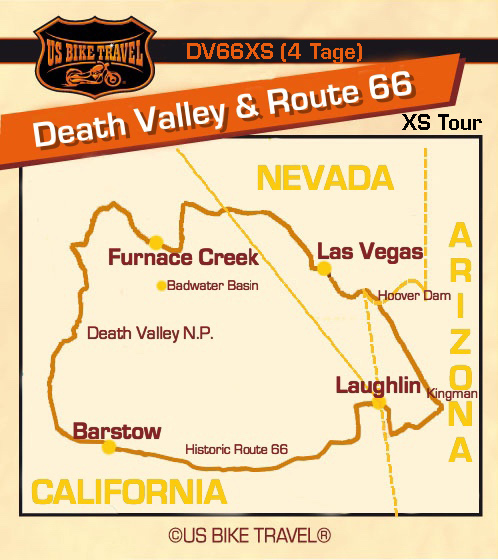 Individual journey to Las Vegas. Please contact us at least 24 hours beforehand so we can discuss the details of your transfer. On the eve of the first day, we offer an optional gathering to get to know one another.
Day 01: Las Vegas - Pahrump - Death Valley N.P. (181 mi/290 km)
On the morning of the first day, we organize your transportation to the rental station where we will pick up our motorbikes. After completion of the paperwork, instruction on the machines, and a short test ride, the experience finally begins. We leave Las Vegas in a westerly direction. Shortly after Pahrump we cross the border to California and drive straight into the famous Death Valley. Our first stop is Dante's Peak (elevation 5475 ft.). Here, at Dante's View, we will enjoy a breathtaking view of the entire length of the north and south of Death Valley National Park. Our next stop is Zabriskie Point and then the park's Visitor Center. From here we visit Badwater Basin, which, at 280 ft. below sea level, is the lowest point in the Western Hemisphere. Cozy temperatures generally prevail here. We will spend the night at Furnace Creek, amid the National Park.
Day 02: Death Valley N.P. - Barstow/Route 66 (197 mi/310 km - 236 mi/380 km)
This morning we continue on our desert journey to historic Route 66. Prior to this we have the opportunity to get to know Death Valley from its other side. Overnight stop in Barstow, California on historic Route 66.
Day 03: Barstow - Route 66 - Laughlin (184 mi/295 km)
Route 66 here we come! The route takes us past stops like Ludlow, Amboy with its crater and the famous Route 66 stopovers Baghdad and Rob Roys Cafe. Here you will take the most beautiful pictures on Route 66. The day's destination is Laughlin, which is right on the Colorado River, and we will arrive in the early afternoon. Overnight stop in Laughlin at the border between Nevada and Arizona.
Day 04: Laughlin - Oatman - Kingman - Hoover Dam - Las Vegas (168 mi/270 km)
Now our Route 66 experience reaches new highs. Our first stop is Oatman, where we are transported back in time. Here we stay a little while and then go on to Cool Springs and Kingman, where we will visit a great Route 66 museum. The way back to Las Vegas also takes us past Hoover Dam, where we will have a quick visit. We reach Las Vegas in the early afternoon, where we will return our machines. Individual transfer to your hotel or extension.
End of the tour.
- Program subject to change. -
Minimum participants: 2 people, passengers included
Maximum participants: 12 people, passengers included
We have never had to do it, but just in case:
If we don't reach the minimum number of participants, we reserve the right to cancel the tour up to four weeks prior to departure.
Alternatively, if the math works in our favor, we can also opt to offer the tour despite not meeting the minimum, but only with one tour guide in the support vehicle.
Typing errors or changes are subject to change.