Southwest Explorer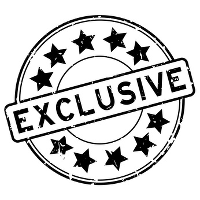 Tour Profile
Duration: 10 days
Distance to drive: approx 1251 miles (2075 km)
Level of difficulty:
If you always wanted to explore the breathtaking southwestern United States on the saddle of a Harley Davidson, then you are just right here at the "Southwest Explorer" tour.
Las Vegas, the historic Route 66, the Grand Canyon National Park and the world famous Monument Valley are just a few of the stops on this tour you will experience in a group of like-minded people.
It does not matter whether you want to participate as a single or as a couple to this dream. This tour will be an unforgettable experience for you! Guaranteed!
If you want to extend your stay or have other requests, please contact us.
Tour Itinerary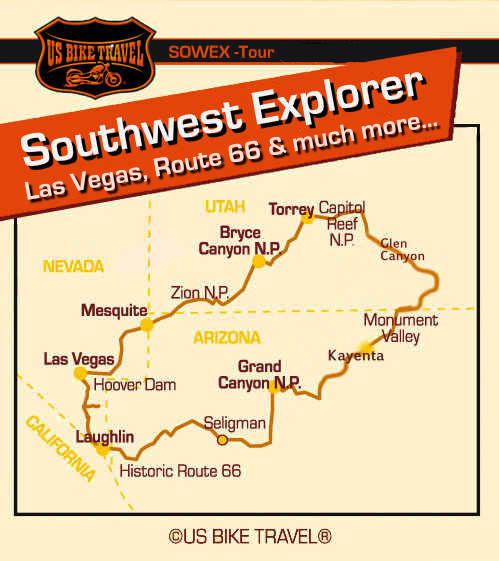 DAY1 (SUN): ARRIVING IN LAS VEGAS
The group will have its first meeting in the afternoon. After a welcome drink, we will give you some informations about the tour. The rest of the evening is yours to spend as you wish. Overnight in Las Vegas.
DAY 2 (MON): PICK UP MOTORCYCLES - LAS VEGAS
The morning is yours to spend as you wish. TIP: Visit the Strip with the various theme hotels or go shopping. We are available if you need any suggestions or advice. In the early afternoon, after a briefing, we will pick up the Harley Davidson® motorcycles in Las Vegas. To get used to them, we'll ride along the famous Las Vegas Boulevard. Overnight in Las Vegas. Tour length: about 12 miles.
DAY 3 (TUE): LAS VEGAS - HOOVER DAM - ELDORADO GOLD MINE - LAUGHLIN
We hit the road. We'll first visit the famous Hoover Dam and the Eldorado gold mine, familiar from a number of movies. We'll then cruise southbound to our destination Laughlin, on the Arizona border. Tour length: about 155 miles.
DAY 4 (WED): LAUGHLIN - OATMAN - SELIGMAN - WILLIAMS
This day we're cruising old Route 66 all the way to Williams before we turn north onto 64 North towards the Grand Canyon. We'll pass through the towns of Oatman, Kingman, and Seligman along the way. In Seligman, we will definitely make a stop at Angel Delgadillo's barber shop, one of the best options for Route 66 souvenirs. In the afternoon, we'll reach the destination for today's ride: Williams! We can look forward to a country-western style evening, with great bars, live music, and restaurants. Tour length: about 190 miles.
DAY 5 (THU): WILLIAMS - GRAND CANYON NP - KAYENTA
After about an hour's ride, we'll reach the next highlight of the tour: the Grand Canyon. Before we head into the national park, you have the opportunity to take part in a helicopter tour of the Grand Canyon (optional). Or you can ride straight into the park. There's a lot to explore here and we'll leave you to your own devices. The highway runs along the South Rim and offers all of the highlights of this fascinating natural wonder. After lunch at the Cameron Trading Post, we'll head through the Navajo and Hopi reservations to Kayenta, where we will arrive in the afternoon. Tour length: about 212 miles.
DAY 6 (FRI): KAYENTA - MONUMENT VALLEY - MEXICAN HAT - TORREY
Today we're going to experience the "real" Wild West. First, we'll head into Monument Valley with its huge rock towers. We'll take a jeep tour through the valley with plenty of stops for you to take lots of photos to fill up those SD cards. We'll then we drive through San Juan and admire the famous "Mexican Hat". Glen Canyon National Park with the Colorado River and Capitol Reef National Park are our next stops on the road. Today we'll be staying near Torrey. Tour length: about 221 miles.
DAY 7 (SAT): TORREY - ESCALANTE - BRYCE CANYON NP
We'll meander our way through the excellent, curved roads along the Escalante Highway to our next destination for the day: Bryce Canyon. We'll spend the afternoon at Bryce Canyon. This park is known for its unique rock formations that glow resplendently in golds and reds as the sun rises and sets. Overnight about 5 miles from Bryce Canyon NP. Tour length: about 168 miles.
DAY 8 (SO): BRYCE CANYON NP - ZION NP - MESQUITE
Sunrises in this area are a pure pleasure! We'll ride through beautiful Zion National Park in the morning, before returning to Nevada via Interstate 15. Overnight in Mesquite. Tour length: about 168 miles.
DAY 9 (MON): MESQUITE - LAKE MEAD - LAS VEGAS
On the way back to Vegas, we'll make a special trip to the Valley of Fire National Park, familiar from various TV commercials, series and movies. We'll drive a beautiful route along Lake Mead back to Las Vegas, where we'll return our bikes and catch a transfer to our hotel. Tour length: about 125 miles.
DAY 10 (TUE): END OF TOUR
Today's the end of your tour. You can either fly back home or extend your stay.
- Program subject to change. -
Minimum participants: 12 people, passengers included
We have never had to do it, but just in case:
If we don't reach the minimum number of participants, we reserve the right to cancel the tour up to four weeks prior to departure.
Alternatively, if the math works in our favor, we can also opt to offer the tour despite not meeting the minimum, but only with one tour guide in the support vehicle.
Historic Route 66 Hackberry