Natural Wonder, Route 66 & Indian Spirit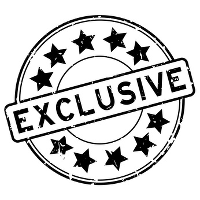 Tour Profile
Duration: 12 days
Distance to drive: approx 1460 miles (2350 km)
Level of difficulty:
If you always wanted to explore the breathtaking southwestern United States on the saddle of a Harley Davidson, then you are just right here at the "Natural Wonder, Route 66 & Indian Spirit" tour.
Las Vegas, the historic Route 66, the Grand Canyon National Park and the world famous Monument Valley are just a few of the stops on this tour you will experience in a group of like-minded people.
It does not matter whether you want to participate as a single or as a couple to this dream. This tour will be an unforgettable experience for you! Guaranteed!
If you want to extend your stay or have other requests, please contact us.
Tour Itinerary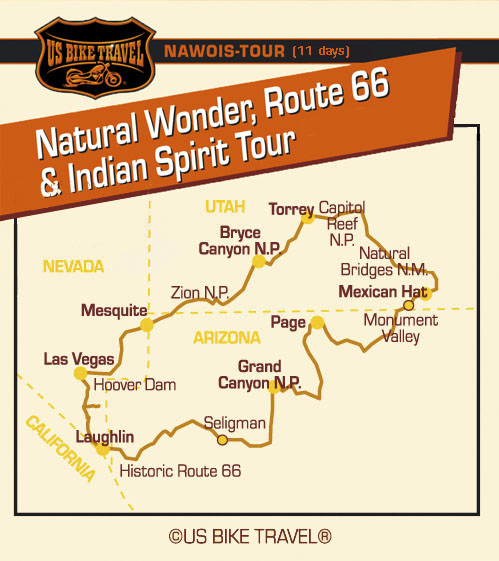 DAY1: ARRIVING IN LAS VEGAS
The group will have its first meeting in the afternoon. After a welcome drink, we will give you some information about the tour. The rest of the evening is yours to spend as you wish. Overnight in Las Vegas.
DAY 2: PICK UP MOTORCYCLES - LAS VEGAS
The morning is yours to spend as you wish. TIP: Visit the Strip with the various theme hotels or go shopping. We are available if you need any suggestions or advice. In the early afternoon, after a briefing, we will pick up the Harley Davidson® motorcycles in Las Vegas. To get used to them, we'll ride along the famous Las Vegas Boulevard. Overnight in Las Vegas. Tour length: about 12 miles.
DAY 3: LAS VEGAS - HOOVER DAM - ELDORADO GOLD MINE - LAUGHLIN
We hit the road. We'll first visit the famous Hoover Dam and the Eldorado gold mine, familiar from a number of movies. We'll then cruise southbound to our destination Laughlin, on the Arizona border. Tour length: about 155 miles.
DAY 4: LAUGHLIN - OATMAN - SELIGMAN - WILLIAMS
This day is completely dedicated to the old Route 66, which we cruise all the way to Williams. On the way there we pass through Oatman, Kingman, Peach Springs, Huckberry, and Seligman. In the afternoon we reach the destination of today's stage, Williams, the last place on the historic Route 66 of this tour. Here the "Western Feeling" awaits us in the evening with great bars, live music, and restaurants. Tour length approx. 190 miles.
DAY 5: TUSAYAN - GRAND CANYON NP - CAMERON
The day today is dedicated to "marveling" and discovering the world-famous Grand Canyon. Those who wish can take a helicopter flight in the morning (optional). The road leads along the South Rim and offers all the highlights of this fascinating natural wonder. In the afternoon we will reach our destination Cameron or Tuba City where we will stay overnight. Tour length approx. 115 - 143 miles.​

DAY 6: CAMERON - PAGE, AZ
The route today is short, but the experiences are huge. We drive through the Painted Desert and our destination is Page. First, after arriving in Page we visit Horseshoe Bend (a short hike with a WOW effect). After "Texas Style" lunch we recommend the excursion to Lake Powell National Park (optional). Later in the afternoon you also have the optional opportunity to take a helicopter ride landing atop the famous Tower Butte for a breathtaking 360 degree panoramic view of Glen Canyon, Lake Powell, Kaiparowitz Plateau, Grand Staircase, and Vermillion Cliffs. This is still an experience in a class of its own. Tour length approx. 110 miles.
DAY 7: PAGE, AZ - MONUMENT VALLEY - MEXICAN HAT/BLUFF
Today we will experience the "real" wild west: First before we leave Page and if we haven't experienced it the previous afternoon, we will take an approx. 1.5 h jeep tour to the unique Antelope Canyon, which invites many breathtaking photos (optional). Now we finally reach Monument Valley with its enormous rock towers. Here we will take another jeep tour (optional) through the Valley, where we will take endless pictures at the various stops. The overnight stay will be in the Mexican Hat/Bluff area. Tour length approx. 175 miles.
DAY 8: MEXICAN HAT/BLUFF - TORREY
Today we will visit Natural Bridges National Monument, Glen Canyon National Park with the Colorado River, and Capitol Reef National Park between Gainesville and Torrey. In the afternoon we will visit Capitol Reef Park. Overnight stay in the Torrey area. Tour length approx. 230 miles.
​DAY 9: TORREY - BRYCE CANYON
We wind our way through excellent winding roads along the Escalante Highway to our next destination for the day: Bryce Canyon. The afternoon is dedicated to Bryce Canyon. Bryce Canyon is famous for its unique rock formations that glow in brilliant golden and red colors, especially at sunrise and sunset. Overnight approx. 5 miles from Bryce Canyon N.P. Tour length approx. 168 miles.
DAY 10: ZION NP - MESQUITE
The sunrise in this area is a pure delight! We will then cross the beautiful Zion National Park in the morning before returning to Nevada via Interstate 15. Overnight stay in Mesquite. Tour length approx. 168 miles
DAY 11: MESQUITE - LAS VEGAS - MOTORCYCLES DROP OFF
On the way back to Vegas, we'll make a special trip to the Valley of Fire National Park, familiar with various TV commercials, series, and movies. We'll drive a beautiful route along with Lake Mead back to Las Vegas, where we'll return our bikes and catch a transfer to our hotel. Tour length: about 125 miles.
DAY 12: END OF TOUR
Today's the end of your tour. You can either fly back home or extend your stay.
​- Program is subject to change. -
​
Minimum participants: 12 people, passengers included
​
We have never had to do it, but just in case:
If we don't reach the minimum number of participants, we reserve the right to cancel the tour up to four weeks prior to departure.
Alternatively, if the math works in our favor, we can also opt to offer the tour despite not meeting the minimum, but only with one tour guide in the support vehicle.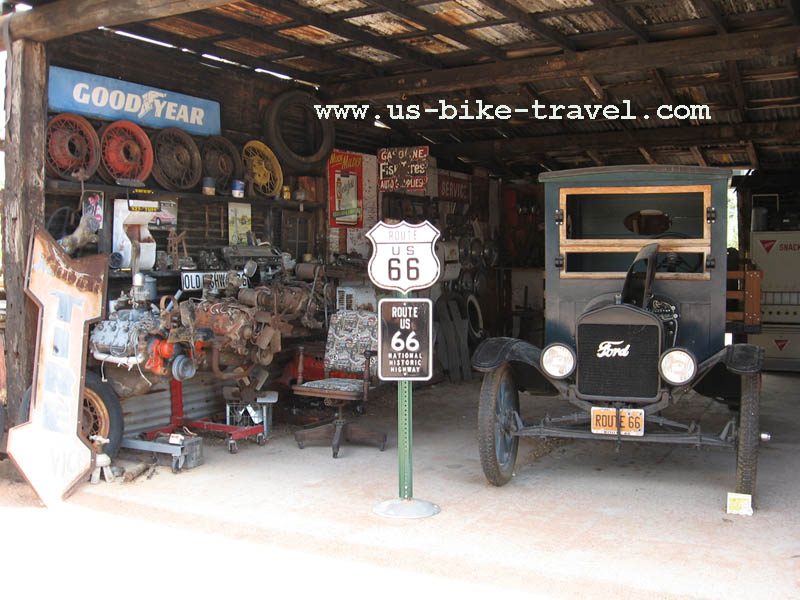 Historic Route 66 Hackberry
Typographical errors or changes are subject to change.